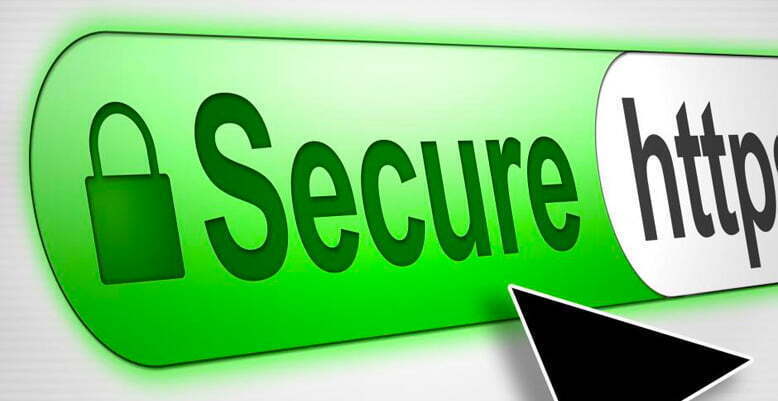 What's this about Google and SSL?
You may be aware that beginning in January 2017 Google has been changing the way their Chrome address bar displays the security and authenticity of your website.
Specifically, any login/password page or any page that takes credit card payment details needs a valid SSL Certificate to be deemed secure.
OK, but what's SSL?
SSL encrypts the information flow to and from your website. You'll see a green address bar or secure padlock symbol. You'll also see your address bar change the "http://www. " before your domain name to the more secure "https://www. etc." because it's using HTTPS – with the 's' on the end.
HTTPS encryption prevents hackers from finding out passwords, credit card details or other sensitive information transmitted to and from your website.
What Google is doing is merely the beginning of a long-term plan to mark all HTTP pages non-secure. It makes sense so my guess is that other browsers will eventually follow suit. SSL is not an essential upgrade this time round, but it probably won't be long.
Is it bad?
Not at all. As well as increasing your defence against hackers, SSL gives your customers confidence that you are who you say you are. In fact most SSL products even provide your visitors with a guarantee to that effect.
On top of all that, having SSL is beneficial to your search engine rankings! So this is a great opportunity to review your domains and keep them working well.
What types of SSL can I get?
There are four basic types of SSL certification:
[ahm-pricing-table id=4835]
Well then Web Design Albury, how can you help?
We're ready to help you make the transition to SSL security.
It's not rocket science, but the process has a few steps and is not suitable for DIY. Here are a few of the things we will need to do to get your website converted to HTTPS:
Help you select the right certificate for your website.
Install the certificate on your website.
Update the configuration of your website to point to HTTPS instead of HTTP.
Redirect all incoming requests for your HTTP website to the location of the HTTPS site.
Re-verify ownership of your website in Google Search Console and update the sitemap location.
Update your web property's configuration in Google Analytics.
Test and confirm that the conversion was successful.
OK. I'd like that.
To have us secure your site please contact us now.
Social Share